Home of the "SHOPDOG"
A craftsman's best friend

What Craftsmen Are Saying About The Shopdog...

Just finished making two sets of your Shop Dog saw horses...wow! These are by far the strongest, sturdiest saw horses I have ever had. With the lumber, hardware and (straps that I already had) , I was able to make these for under $10.00 each. Try to find anything comparable at the store...good luck. I don't usually purchase things like this over the internet, but after seeing your video and all of the time and effort you put into R&D I was willing to give it a try, I am certainly glad I did. I will tell all of my friends about these and will more than likely be making some as gifts. Thank you again. Great idea, complete plans, easy to put together...
~ Mike – Whitemore, CA


I think the design was just about the best DIY saw horse that I found on the net (I think I viewed over 40 of them). I think the Hide-a-horse is my second favorite due to its compact transportability, but yours beats it in versatility, hands down and the DIY plans are the best that I have seen so far, worked the first time. In fact, I used your plans to make that chop saw stand version that you mentioned. Your plans are excellent and, I think, worth way more than the $5.00 that I paid for them, if I had paid say $12.99, I would not have been disappointed, particularly because of the templates for the inner and outer upper leg cuts, saved a lot of potential trial and error mistakes, they alone were worth the plans cost. I look forward to more plans to tryout, you do good work.
~ Darnley - Fairfax, VA


Your directions are excellent, and I'm not one that is easily impressed. I enjoyed the video showing the accessories as well. You've obviously put a lot of time and effort into this.
~ Dave - Midlothian, VA


These are great sawhorses! After looking at many different designs on the internet, these were clearly the best. The plans were very easy to follow and very reasonably priced. I shudder at the thought of trying to figure out all the complex angles on my own. The templates were also a huge help.

I wanted to use my Shopdogs to hold my kayak for cleaning and maintenance. I made curved attachments which match the shape of the hull. The padding is a foam "pool noodle" split lengthwise. This is very stable and prevents the boat from rocking while I work on it. To make them waterproof, I applied several coats of clear spar varnish. I also sanded all the markings off the lumber. The result is a very nice looking set of sawhorses, and I have received many comments on them.

Thanks for sharing this great design!
~ Robert - Arlington, TX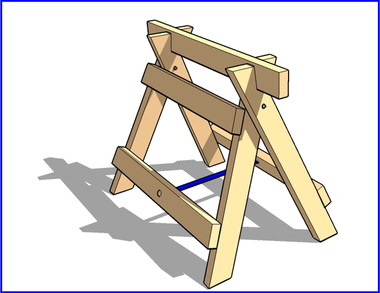 Download includes 18 pages of full color pictures, detailed step by step building procedures and full scale templates to make building easy.
---
FEATURES:


Inexpensive to make, it takes only two 2 x 4's for each Shopdog.
Saves your saw blades from metal parts, all metal fasteners are at least 6" away.
Simple and quick construction with full color detailed plans and building procedures with full scale templates that eliminate any guess work.
Shopdogs fold up quickly and simply to take up minimal space in your shop or in the back of your truck.
Shopdogs can be mounted to any wall easily without any additional materials needed.
Shopdogs unfold and are ready to use in seconds.
Custom made Tensioning Straps (Additional Cost) ensure that all your specialized attachments can be changed quickly and easily "tool free".